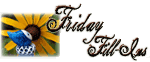 1. I love the feeling
of my baby sleeping on my chest
in the morning.
2. Seeing
J2 smiling and happy when he wakes up
always brightens my day.
3.
Being pregnant with my little girl
is what I will remember the most from 2012.
4. My favorite family recipe is
taco salad, ground meat stew, cheeseburger soup...I can't decide
.
5. When I want to spoil myself I have
a trip to the store to buy art supplies
.
6.
Right now, Ugly Betty
is my favorite TV show
...I love Netflix!!
7. And as for the weekend, tonight I'm looking forward to
remembering that it's Friday and spending time with my hubby
, tomorrow my plans include
doing things around the house and taking care of my children
and Sunday, I want to
relax and hang out with my family (and probably get some knitting done)
!